I'm excited to participate in a new (to me) link-up -- about books! Yay!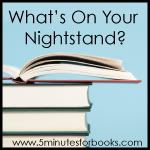 My literal nightstand is more like a nightmare: a collection of children's books and clutter, if I recall correctly from my chair at the computer, far removed from the muffled cries of "declutter me!" that nag me every time I walk by and my eyes happen to glance that direction.
Thankfully, the idea isn't really to tell literally what's on your nightstand, but to tell what you intend to read in the next month, and/or what you read over the last month. Much more fun.
Remember my
overly-ambitious list
? Did I read even a little bit from it? I DID! Can you believe it?! I finished
A Love That Multiplies
(which wasn't on the list), and then read
The Strange Case of Dr. Jekyll and Mr. Hyde
. I enjoyed both of these. I also began
The Path to Power
, but so far have done little beyond determining that I'd just start again at the beginning -- somewhat painful because I'd read over 400 pages once upon a time, but had really lost touch with it, it had been sooo long -- and read the introduction. I'm lost somewhere in the first chapter, in the midst of the Hill Country of Texas. I'm enjoying it, but slowly.
What do I hope to read from the list in February? I would love to finish
The Path to Power
, but doubt I will. Maybe I'll read the part I already read faster this time (?), but it's still lengthy. I don't know which book from the list I might read after I do finish it, but it's fun to think about. :)
It strikes me that it would be good to also keep track here of readings not mentioned in my list post, but I'm not making the effort right now. Not that it would be that much quantity-wise: lots of bits and snatches, largely, I think. But I didn't even keep track very well in some areas. So I'm sticking to my list for now. Maybe next time I'll be marvelously organized. Yeah, sure. :D
So what did you read in January, and/or what are you planning to read this month?
Check out what others are reading at
5 Minutes for Books
.